Free Deluxe Vintage Wine Accessories With New Orders
Lockdown is a great time to add to your wine cellar and try something a little different and we have found a brilliant offer for you!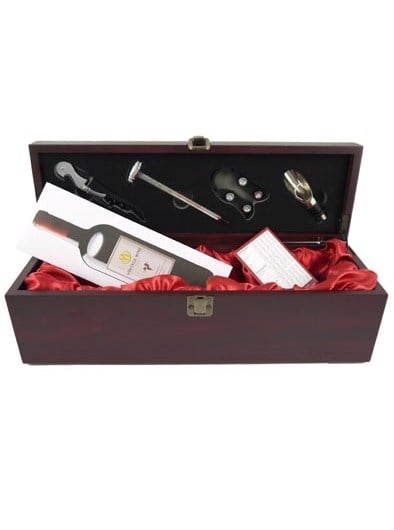 Vintage Wine Gifts Accessory Box
Let's face it we all tend to be creatures of habit and stick to the same wines everytime, but this awesome offer is the perfect time to expand your palate and try something new. The lovely people over at Vintage Wine Gifts are adding a free wine accessory kit to all orders when you spend over £30 per bottle. That is on top of their new free gift card that comes with every order, so you can also send it to someone special. Whether you are a red or white drinker these stunning choices are perfect for your next wine night in.
Tantalising Reds
Fancy a Rioja? Here are two of the best we could find!
From the very good 2013 vintage and scoring 92/100 Parker points, "This classical blend of Tempranillo with 10% Mazuelo and 5% Graciano matured in barrel for 24 months. This is a redder style of Viña Real, a little lighter, less concentrated and more aerial, with a cereal-like twist and a medium-bodied palate with very fine tannins."
This Spanish red wine is from the very good 1970 vintage is complex and developed aromas of truffles, leather and cherries. The palate is silky, elegant and smooth with fully resolved tannins and good freshness.

What About a Shiraz?
From the outstanding 2005 vintage and scoring 96/100 Parker points "The 2005 Gregor Shiraz was made from grapes dried on racks prior to crushing and fermentation in the style of Amarone. More deeply colored than its siblings, it has a liqueur, port-like character to its aromas and flavors. Large in scale and richly fruity, it conceals enough ripe tannin to evolve for 6-8 years"
From the very good 2006 vintage and scoring 91/100 Parker points "The 2006 Dust Kicker is a blend of Cabernet Sauvignon, Shiraz, Grenache, and Mourvedre that spent 18 months in seasoned French oak before bottling without filtration (as are all the Schwarz wines). Purple-colored, it offers up a complex nose of cedar, spice box, tobacco, earth notes, black cherry, and blueberry. Layered on the palate, this easy-drinking, pleasure-bent wine has gobs of flavor, a plush palate feel, and a fruit-filled finish.

Wicked Whites
If you prefer white, this is an amazing Chablis
From the outstanding 2014 vintage and scoring 89/100 Parker points, "The 2014 Chablis 1er Cru Mont de Milieu underwent a 14-month maturation, 10% in French oak, and has a pretty, white petal scented bouquet with green apple, kiwi fruit and light peachy aromas. The palate is well balanced with a citric entry, the acidity is well judged, although I would be seeking more complexity in the second half where it feels rather strict and linear. Not bad, but it could be even better."

Reviews News