Motorola Razr 5G Announced for October Release
Motorola took the mobile industry by surprise when they announced on September 9th that they were reproducing the new Motorola Razr, a flip smartphone with two OLED screens and Snapdragon 765G processor. An undeniable competitor to the Samsung Galaxy Z Flip.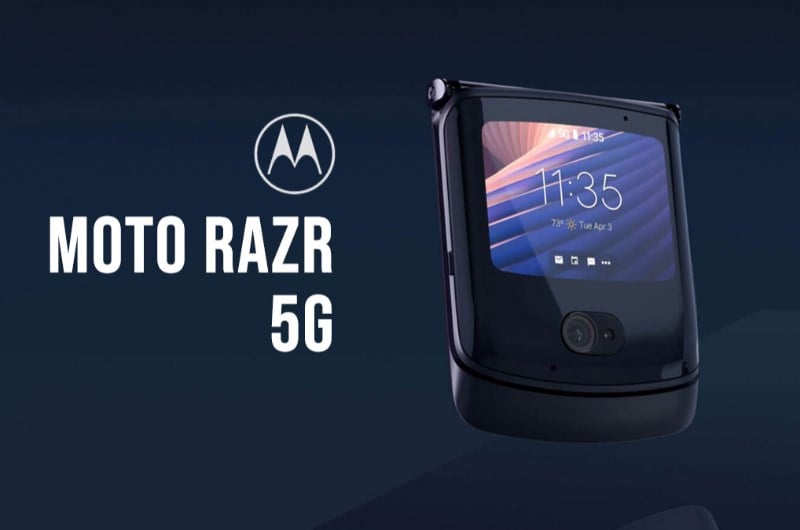 The new device which "fits in the palm of your hand", has a battery size of 2800mAh that will last the day and with 8GB RAM and a storage capacity of 256GB, it is a match for any smartphone on the market today.
Best Motorola Phone Deals
Motorola Razr 5G Screens
So, with this newcomer, the brand hits hard. They are offering a clamshell smartphone equipped with a foldable screen. But,
Motorola
also equips the smartphone with a screen on the front of the phone as well as the foldable screen. This is what the brand calls the home screen.
Its two screens are the same size as the original version: the external one has a resolution of 600x800 pixels and is a glass OLED panel that measures 2.7 inches. The internal screen is a 6.2-inch plastic OLED panel with HD resolution and 2142x876 pixels.
The "Home screen" is a touch screen that displays the notifications without having to open up the phone. With this feature, it will be possible to see incoming messages read and respond to them either via the virtual keyboard or via voice integration. It will also be possible to display step-by-step navigation on Google Maps or even use your favourite music apps such as Spotify, YouTube Music and Deezer.
Once unfolded, the phone will show a screen layout similar to other Android smartphones.
5G and More
As its name suggests, the Motorola Razr 5G is equipped with a
5G chip integrating four antennas
. The handset will come pre-loaded with Android 10-based Moto and runs on Qualcomm Snapdragon 765G processor. Wi-Fi is also present with dual-band 2.4GHz & 5GHz. Bluetooth is Bluetooth 5.1, A2DP, LE.
It comes with a 2800mAh battery and 15W charging capabilities through a USB-C port.
Finally, NFC is also present to allow users to pay for goods through Apple Pay and Google Pay.
Motorola Razr 5G Camera
Smartphone photo junkies: on the back (outer of the phone), there is one camera with Quad Pixel technology and a resolution of 48 megapixels and an aperture of f/1.7. Added Photosensor software allows this camera to act as a selfie cam when the phone is closed.
Inside the Motorola Razr 5G, there is a 20-megapixel camera with an aperture of f/2.2 featured at the top of the foldable screen and can be used for selfies.
Price and availability
Sale of the handset kicks off in China on September 15th but the Motorola Razr 5G will be available in the UK from October and will be priced around £1,425.
Motorola Razr 5G Details

Best Motorola Phone Deals

Motorola Razr 5G Screens

5G and More

Motorola Razr 5G Camera

Price and availability
Moto Razr 5G FAQs
How much is the new Motorola Razr 5G (2020)?
The 2020 Motorola Razr 5G is priced at $1,399/£1,399. You can pick up the handset in Polished Graphite other colours are available direct from Motorola.co.uk
Where can I buy a Motorola Razr 5G?
You can pick up a new Motorola Razr 5G from O2, Vodafone, Tesco Mobile, Carphone Warehouse, John Lewis and Amazon.co.uk
What's in the box with the Motorola Razr 5G?
In the box you will find a 15W power supply, a USB-C cable, a headphone adapter, SIM tool and the usual paperwork.
Does the Motorola Razr 5G have a headphone jack?
As with most smartphones now there is no headphone jack on the Razr 5G. You will need to use either Bluetooth connected headphones or USB-C wired headphones. There is an adapter included in the box.
Reviews News