Samsung Leak: Pop-up Camera for New A Series?
New images leaked on the Internet today suggest that the new Samsung a series could feature a pop-up front facing camera.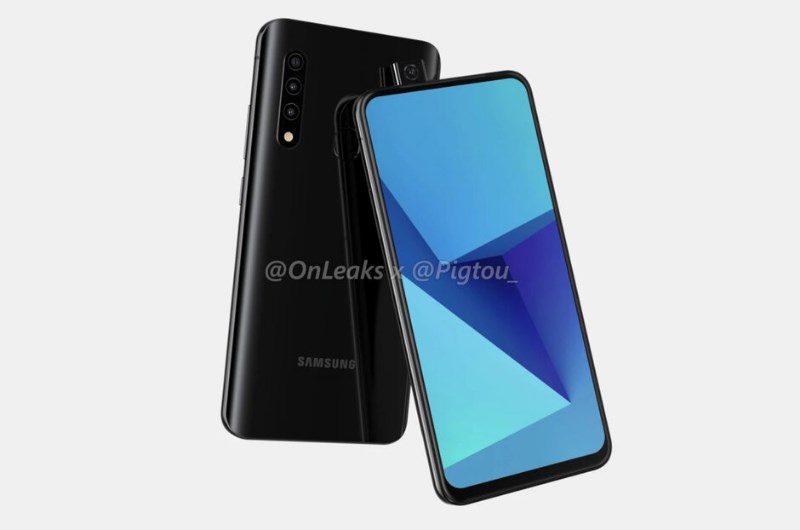 Samsung Popup Camera Leak
Camera design for the front of a mobile phone has always been something of a contest. We have gone from big chunky cut outs down to pinholes style cameras but however you look at it they do interrupt the flow of the front screen.
Over the last year we have seen a rise in popularity of manual and motorised pop-up front facing selfie cameras that slide neatly back into the casing out of sight between uses. Some manufacturers have tried to utilise the rear camera technology, others have a separate unit.
Samsung Join Pop-Up Revolution
So far high-end flagship phones seem to have stayed away from pop-up cameras. Instead preferring to take the camera housing down to the smallest possible level. Of course, to have a sizeable megapixel camera on the front requires a sensible size housing. However, it looks as if Samsung may be trying technology that pops up, but instead of risking their flagship series, they are opting for the A series.
Of course, one can never be sure of the authenticity of leaked images and whether they will actually turn out to be true, but the recently leaked image appears to show a mid-range handset with a pop-up camera and the Samsung branding clearly displayed on the back. It is most likely that this will be the new A series as it lacks the finesse and polished finish of the high-end flagship offerings. The bezel is relatively chunky, and the camera seems to be about a centimetre across and pops up from the top of the handset near at the left-hand side. From the images it also appears to have a plastic back and frame, which would also confirm that it is not any of the premium range phones.
More Details
It is evident from the image of the rear of the handset this also appears to have a traffic light arrangement, triple lens camera housing with a LED flash below. There seems to be what looks like a fingerprint scanner in the middle of the back panel. From the images underneath there is no standard headphone jack along the bottom, but we cannot see the top to see whether this has been removed or retained.
The use of a pop-up camera does relieve the front screen of any interruption when it comes to viewing full screen video or games. However, most users don't seem to have a problem with some form of camera set into the screen. The latest Samsung Note series and S series front facing cameras remain in the screen and are much less intrusive than they were a few years ago. We have even seen dual front cameras within screen housing that look naturally placed and not intrusive. There is no other detail included with these leaks (which were posted by Pigtou in a collaboration with OnLeaks), so we will have to wait and see whether it turns out to be genuine or not.
Reviews News