The 5 Best Video Editing Apps for Smartphones
Would you like to edit your videos on your smartphone video directly in an app? We have put together a selection for you. Check out the top 5 video editing apps.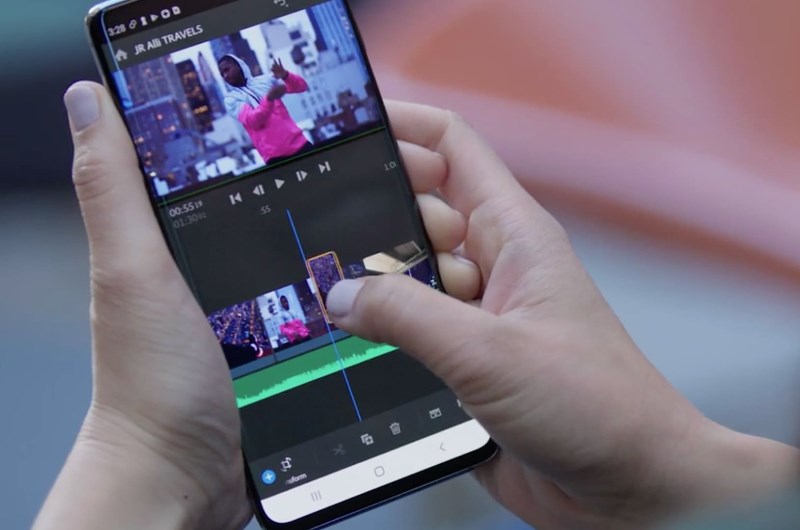 You can edit recorded clips not only on your computer, but also on your mobile phone. All you need is a video editor. Here is an overview of five different video editing apps. You can easily record clips on your smartphone, edit them there and put online via social media channels.
FilmoraGo
FilmoraGo is a video editing app for Android and iOS. In the free version, the range of functions may not be complete, but there is no watermark over the video during editing. The basic functions of the app are always sufficient to use simple editing such as cutting, joining and effects. Templates within the app can also help with editing. Premium functions can be purchased in the app for £199.

Film Maker Pro
This app offers you a whole range of creative possibilities. From film effects and transitions to texts and emojis to filters, everything is available. Ovideos can also be shortened or several clips can be cut together. The app is available for iOS and Android. In the free version, a watermark is unfortunately placed on the video. A version of the app without a watermark costs £2.99. If you want to use the full version, which in addition to the missing watermark has even more functions, you have to pay £11.99.

iMovie (For the iPhone)
The "iMovie" app is already available on every iOS-based system. It is internal to the system and free of charge. Unfortunately there is no official version for Android. Videos can be edited without any watermark and videos can be cut or multiple clips can be merged. It is also possible to use filters or insert background music. Thanks to the optimal networking of Apple products, videos can be uploaded directly to the iCloud or streamed via AirPlay.

InShot
The InShot app is free in its basic version. Additional functions can be acquired via a monthly subscription for less than £1 per month or a one-time full price payment of € 28.99. However, these are not necessary for simple video editing. You can split a video clip into several sequences or combine several clips into a longer video, filters and even emojis are also involved here. You can insert text or adjust the playback speed. The video editor InShot is available for both Android and iPhone.

PowerDirector
PowerDirector is available as a version for the computer and as a smartphone version for Android and iOS. Videos can be cut and edited particularly easily using a timeline. The app is free and offers the full range of functions: filter, cut, merge, insert text ... Everything is possible! The only disadvantage of PowerDirector: In the free version, a watermark is always automatically inserted. The full version can be purchased for a one-time fee of £5.99 and the watermark disappears.

Reviews News