The Best Cooking Apps for 2020
The days of using a clunky old cookbook are now long gone, Checkout the best cooking apps available in 2020. From healthy eating to over indulgence our top cook apps reviews have got you covered.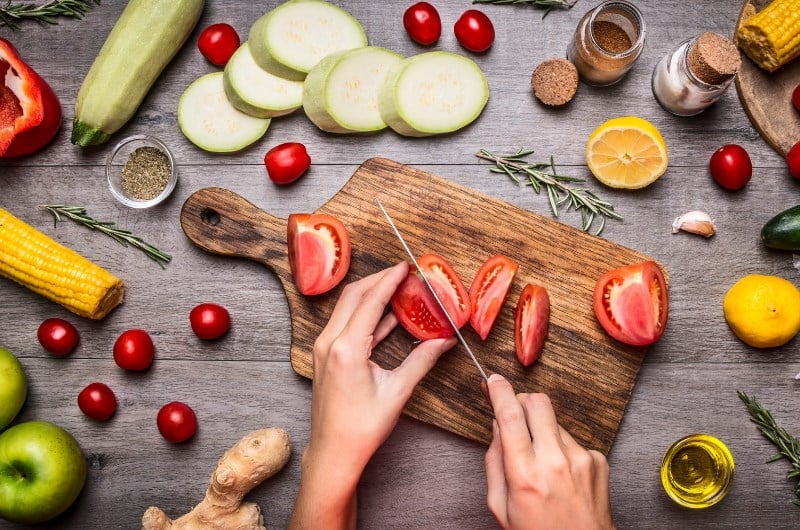 Cooking Apps

The Perfect Egg Timer

Perfect Egg Timer Features

KptnCook

KptnCook Features

Parprika Recipe Manager

Paprika Recipe Manager Features

Kitchen Stories

Kitchen Stories Features

Go Veggie

Go Veggie Features

EATSMARTER

EATSMARTER Features

Cocktail Flow

Cocktail Flow Features

SuperFood

SuperFood Features
The Perfect Egg Timer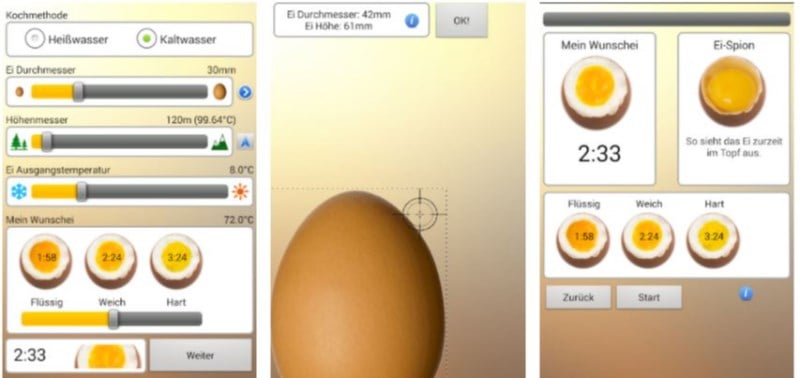 Perfect Egg Timer Features
The formula for the perfect egg-timer is based on physical experiments and studies
Egg-size can be adjusted to the nearest millimetre (inch): Simply place the egg on the Android-Phone scale and set the size with your fingertip. It doesn't get any more accurate than this.
Automatic change of measurement units between inch or milometer and Fahrenheit or Celsius, depending on language and international settings.
determine and enter your altitude manually or let it be determined by GPS automatically.
The egg-spy shows you the inside of your egg during the cooking progress
"The perfect egg timer" is a clever program with which your eggs should turn out the way you like them. First, place the egg on your iPhone and measure the exact size, using a graph paper as the screen background. Then state whether the egg is room temperature or was in the refrigerator. Finally, use a slider to set whether you like your egg liquid, soft or hard. Now put the egg in a saucepan with cold water and turn on the timer as soon as the water boils. The egg spy then shows you what it looks like inside the egg.

KptnCook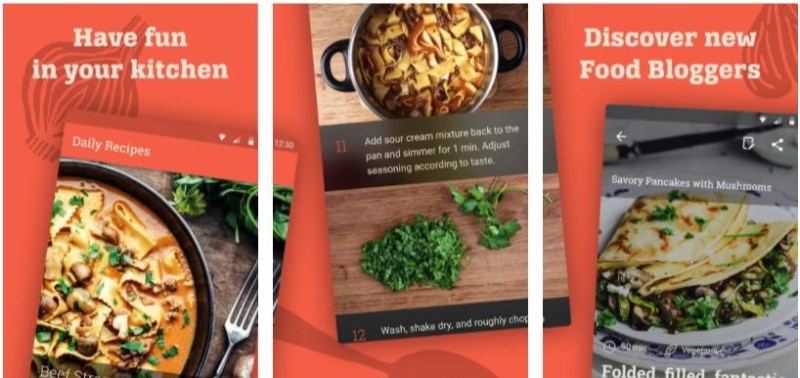 KptnCook Features
3 delicious recipes for quick cooking, every day
Varied recipes from vegan to fish to low carb
Step-by-step photo tutorials to make sure each dish is foolproof
Save your favorite recipes in your personal list to cook them later
Quickly find the right dish with a recipe filter
Share your favorite recipes with friends
Find the nearest grocery store on the integrated map
Create a shopping list of several recipes, including prices
Portion calculator and nutritional information
Free cooking app

In a nutshell: the "KptnCook" app presents three recipes from well-known food bloggers every day. All cooking instructions come with beautiful step-by-step photos and a shopping list. Up to 25 recipes can be saved as favorites in the app.

Parprika Recipe Manager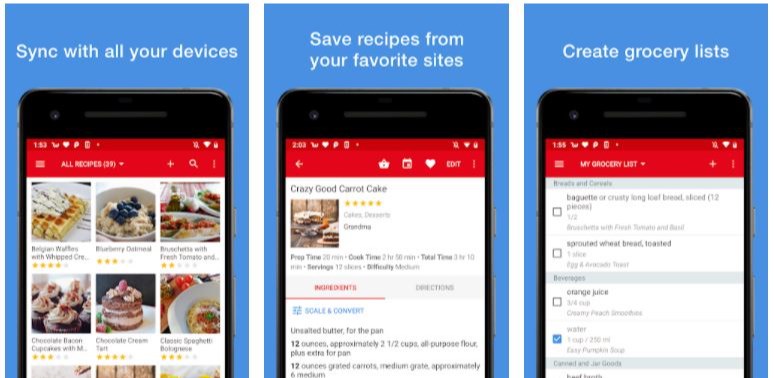 Paprika Recipe Manager Features
• Recipes - Download recipes from your favorite websites, or add your own.
• Grocery Lists - Create smart grocery lists that automatically combine ingredients and sort them by aisle.
• Pantry - Use the pantry to keep track of which ingredients you have and when they expire.
• Meal Planner - Plan your meals using our daily, weekly, or monthly calendars.
• Menus - Save your favorite meal plans as reusable menus.
• Sync - Keep your recipes, grocery lists, and meal plans synced between all your devices.
• Adjust - Scale ingredients to your desired serving size, and convert between measurements.
• Cook - Keep the screen on while cooking, cross off ingredients, and highlight your current step.
• Search - Organize your recipes into categories and subcategories. Search by name, ingredient, and more.
• Timers - Cook times are automatically detected in your directions. Simply tap on one to start a timer.
• Import - Import your recipes from other desktop and mobile apps.
• Share - Share recipes via email.
• Print - Print recipes, grocery lists, menus, and meal plans. Recipes support multiple print formats including index cards.
• Bookmarklet - Download recipes from any browser straight into your Paprika Cloud Sync account.
• Offline Access - All of your data is stored locally. No internet connection is required to view your recipes.
No more flying slips of paper, loose-leaf collections and the constant search for that one tasty recipe from the Internet! With the "Paprika Recipe Manager" recipe management system, amateur chefs will in future have all the cooking instructions - including ingredients and shopping lists - in one layout in one place.
The highlight: With just a few clicks you can load recipes from more than 190 websites into the app, which then adapts the layout. Recipe information from any website can also be inserted via copy-and-paste. Own notes, a scaling of the ingredients for changed portion sizes, input options for nutritional information, customizable categories and other functions are waiting for lovers of good food and stress-free preparation.
If you also want to use the app - via cloud synchronization - on a Mac or iPhone, buy it separately; the cloud service is free.
Kitchen Stories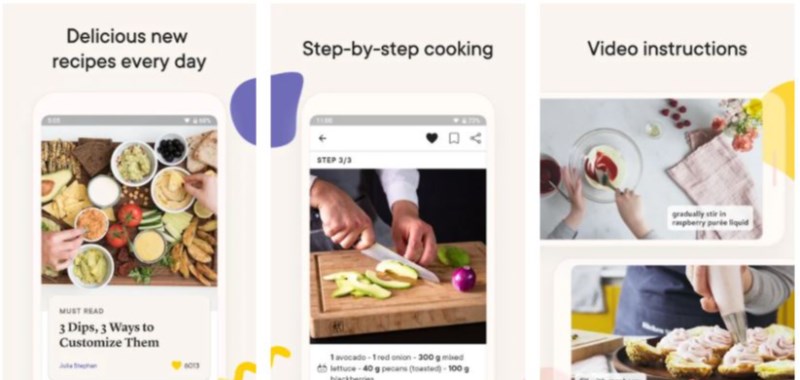 Kitchen Stories Features
Show off your cooking skills by uploading your own recipes to share with our international community
Take photos of each recipe step in a streamlined, easy-to follow process
Be inspired daily by thousands of free recipes, tips, and articles
Become a kitchen pro with instructional videos and skill tutorials
Set up your personal profile and save your favorite recipes in personalized cookbooks
Activate "cooking mode" to be guided effortlessly through recipes, step-by-step
Use the measurement converter to easily adapt ingredient measurements according to serving size servings.
Plan your grocery list with the automatically generated shopping list
Rate and share your favorite recipes
Upload photos of the dishes you've cooked and exchange experiences with others in the comments section.
The preparation of tasty dishes is not rocket science. Recipe videos, kitchen tips and illustrated step-by-step instructions accompany hundreds of cooking recommendations, from simple everyday dishes to sophisticated creations. Automatically generated shopping list, note function, favorites list, timer and quantity calculator - the "Kitchen Stories" cookbook comes with many helpful functions.
Go Veggie
Go Veggie Features
100 complete vegetarian entrées, recipes for quick everyday dishes ranging from easy to clever.
Plus there are another 20 basic recipes that tell you how to make aromatic broths and tasty sauces without meat, and instructions for lots of basic preparations.
Over 40 recipes are suitable for vegan cuisine.
Recipe success: Everything is explained in steps, and there are lots of accompanying photographs to ensure that even budding chefs can enjoy success in the kitchen.
The recipes are organized by country, and range from Mediterranean delights to Asian/oriental spices, to rustic northern european cuisine and specialties.
The recipes also include valuable cooking and shopping tips, and at least 2 suggestions for other variations.
A list of ingredients and recipe index, the ability to make shopping lists, and the favorites function all provide clarity and make shopping easier.
And of course, the recipes can all be forwarded by email.
A glossary explains the vegetarian proteins and ingredients.
The photos can be rotated at the touch of a finger; you can turn the dishes through an angle of 180°, and see them from three sides.
Vegetarian cuisine is not boring, as the "Go Veggie!" App proves. Choose from 100 meatless dishes from Nordic, Asian, Mediterranean and Oriental cuisine. Ingredients and work steps are swiped on in the so-called "cover flow" manner - in other words, you leaf through the collection like in a catalog. Pictures of the respective work steps, a glossary and a shopping list complete the recommended program. Don't let the title fool you: the app is entirely in German.

EATSMARTER
EATSMARTER Features
More than 100.000 healthy recipes
Simple, intuitive navigation
Recipesearch with useful filters
Save, send and share recipes
Your Cookbook
Useful shopping list
The special thing about "EatSmarter!" Is the clever search function for recipes with which you can select dishes. First, choose from the usual categories such as fish, poultry or snacks. Then combine your search with other criteria such as difficulty of the dish, calorie content, cost.
Here you will definitely come across real bargains: the category "4 people for 5 GBP" alone contains more than 130 recipes. You can save your favorite recipes from more than 100,000 instructions in a personal cookbook. Write down ingredients on your digital shopping list.

Cocktail Flow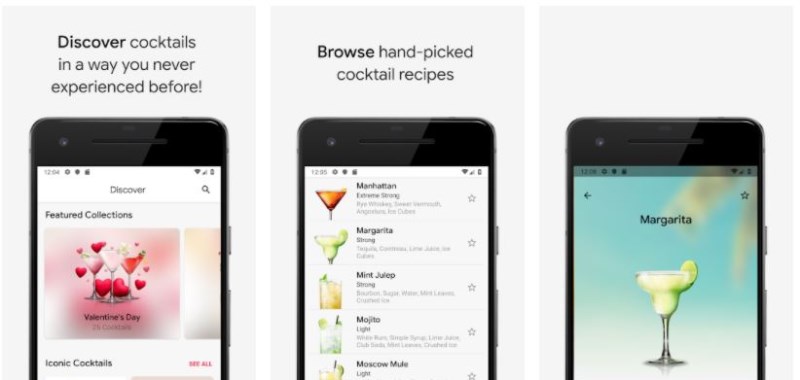 Cocktail Flow Features
My Bar My Cabinet
Find a Cocktail
Cocktail Library
Favourites
Cocktil Flow Premium
Long drink, short drink, slings and sours - there is no shortage of alcoholic and non-alcoholic mixed drinks. The "Cocktail Flow" app takes this diversity into account with 600 recipes in 100 categories. Whether it is about discovering the right drink for the movie night or about classics for all seasons, you will find the right mixture for the special moments in life here. With the "My Bar" tool, you can find out what can still be conjured up with the leftovers in your bar cabinet. Well then, cheers!

SuperFood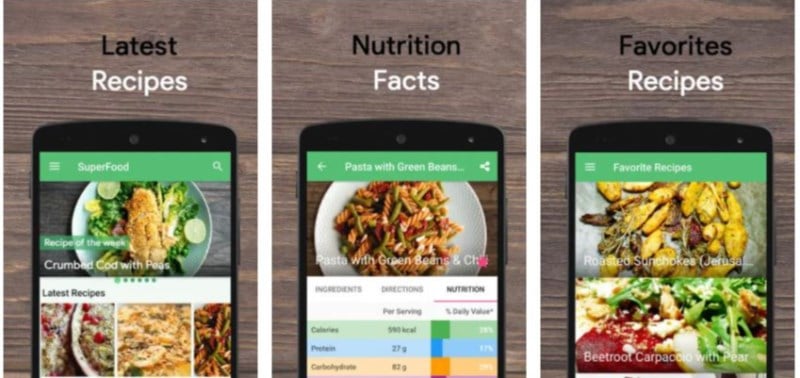 SuperFood Features
Choose your favorites from many tasty and healthy recipes
Calorie Counter calculates calories and nutritional values
Share your healthy recipes with friends and family
Add yummy recipes and ingredients to your grocery list
Information about Superfoods
Portion calculator and nutritional information for each recipe
Seasonal calendar for fruits and vegetables
Vegan, vegetarian, high-protein, low-fat and low-carb recipes filter
Share all recipes via Mini Web App for non-Android/iOS users
Cooking mode that keeps the screen on while cooking
Timer feature that alerts you for each step in preparing your meal
Chia seeds, maca, goji berries & Co. - numerous seeds and berries promise a lot in terms of health and a long life. Whether controlling the hormonal balance, anti-aging, natural aphrodisiacs, digestive regulation - there is hardly a little ailment in which the so-called superfoods should not be beneficial.
No matter how strong the belief in the positive properties of the grains and fruits is: They definitely bring variety to the menu. The publishing house Graefe und Unzer presents 50 vegan and vegetarian recipes in proven perfect quality. Information, photos and intelligent shopping lists ensure that quinoa burgers with spinach or carob pancakes with blueberries are a delicious treat.

Reviews News