Rumours of the Galaxy Note 20
Rumours are starting to circulate about the next incarnation of the Galaxy Note series.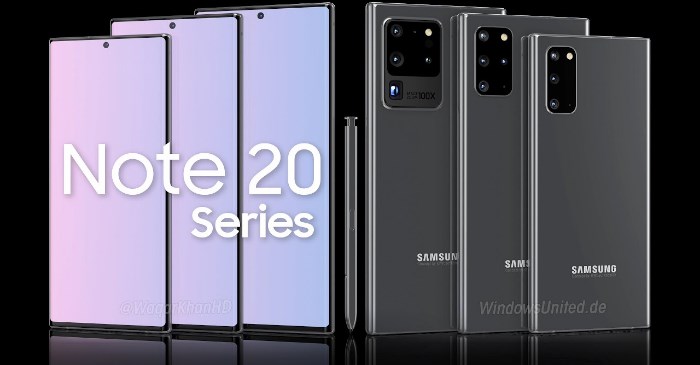 Samsung Galaxy Note 20 Series
Before the pandemic, you would've been able to set your watch by
Samsung
and many other mobile phone providers. We would expect the launch of the new Galaxy Note 20 to come in August. However, at this point it is impossible to tell whether this can happen or not due to the current lockdown and restriction situation across the world.
Galaxy Note 20 Series
What we do know is that they will be hard at work ensuring it is ready for launch, even if this has to be a closed web launch only. We know that the Galaxy Note series is one of the two flagship ranges from Samsung and the other range launched earlier this year, on schedule, in February with the Galaxy S20 series.
There were no great surprises with this handset range, although they are stunning high-end phones that feature the best of Samsung technology. This means we can take quite a good stab at predicting what the Note 20 series will look like. As with previous incarnations we would expect two handsets released at the launch, the Note 20, and the Notes20+ and if they follow the trajectory of last year the Note 20 lite will release soon after.
Spec Rumours
Guessing specifications is the harder part, but rumours are usually correct, and it is suggested that this series will feature the QUALCOMM SD865 chipset which would make a lot of sense. Whether this will be a 5G version or not we have yet to learn, but we would imagine so. You can guarantee that camera technology will be a priority. Whether they will beat the 64 megapixel they have already used is unknown, but with other cameras offering up to 108 megapixels the game is certainly on. It will be a triple or even quad camera which will include a telephoto sensor and an ultrawide lens as well as a depth vision sensor.
We also expect to see upgrades to the S pen, although quite where they can take this now, as it is fully interactive is unknown. We would expect the front facing camera to remain a punch hole lens. We are pretty sure we will see some waterproofing elements, as well as biometric fingerprint technology under the front screen.
In terms of RAM, things are really starting to get competitive. 4/6/8GB of RAM used to be quite common, but recently companies are stepping up and providing 12GB of RAM. It is therefore considered that the Note 20 series will also take this step. With Samsung that should be considered an 'at least' number with the Plus model potentially featuring even more. The internal storage is rumoured to be shrinking down from 256GB to 128GB but as Samsung almost always includes a removable micro SD card slot, that isn't really an issue. It is also expected that the battery will be at least 4000mAh if not 5000mAh.
Of course, for now this remains rumour and speculation but as soon as we have anything confirmed we will update you.
Reviews News