Compare the best Doro 6520 mobile phone deals. Choose from the latest Doro 6520 contracts and SIM free offers
Best sellers

Monthly cost

Total cost

Data
Brands
Models
Doro 6520
Doro 8035
Doro 7030
Doro 6620
Doro 5516
Doro Primo 805
Doro 8050
Networks
Retailers
Clear filters
Show results
Choose your
Doro 6520
Cancel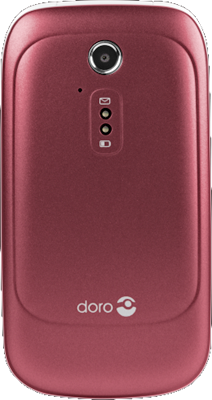 SIM Type

Micro SIM

Internal memory

75MB

Cellular support

2G 3G

Maximum Talk-time

Up to 8 hours

Bluetooth

2.1 with EDR

GPS

None

Wifi

None

Weatherproofing / IP Rating

Not rated

Operating System

Proprietary

Colour

RED
Weight (grams)

108

Memory card slot

MicroSD up to 32GB

Processor

520 MHz

Chipset

ARM11
Dimensions

103.9 x 55.1 x 19.2 mm

Screen resolution

320 x 240

Screen size

2.8"

Screen type

TFT
Camera Megapixels

2

Camera Flash

None

Selfie Camera

None
Doro 6520 Deals
Doro is a fantastic company, dedicated to making life a little easier for the elderly. They believe ageing shouldn't always mean the requirement of help but can be an independent and secure stage of life, too.
Doro creates various communication products with the elderly in mind, with many accessibility features they wouldn't be able to find with the latest popular smartphones. Larger keys, amplified sound, and image-based speed-dial.
The Doro 6520 includes some of this technology too, including a large screen, talking number keys, hearing aid compatibility, and an easy help key that takes the user straight to the pre-set emergency contacts list whenever they need assistance.
The standby time is a healthy 380 hours, so remembering to charge the phone every day doesn't have to be an issue.
Doro 6520 Contract Offers
There is a small choice of providers when it comes to the Doro 6520, which keeps the decision making to a minimum.
Once you've picked your device, our comparison tool will assist you further when it comes to choosing the right network, as well as choosing the contract that best suits your needs.
You'll get a clear view of how much data each network offers and at what price - so depending on how much data you think you'll use, you can find yourself the
perfect phone contract
.
Doro 6520 Big Data Deals
For the Doro 6520 specifically, you'll find data allowances range from 4GB a month to unlimited. Prices range from around £15 a month for both device and airtime, up to £26 for the larger packages.
Your decision should be based on two main factors: how much data you use, and which network provider offers the best coverage to your local area.
There's no point having unlimited data if you can't use it.
Doro 6520 Cheapest Deals
Finding the cheapest deal is easy with the help of our price comparison tool. Once you've selected your Doro 6520, you can select between data allowances, network providers and retailers and compare, all on one screen.
When selecting data allowance size, be sure to give yourself room to breathe as going over data allowances can be much more expensive than just opting for a slightly more generous allowance.
And again, don't just choose the cheapest network without checking the coverage you'll get from them.
Doro 6520 SIM Free Deals
Sim free deals
are a matter of just purchasing the handset without the airtime aspect. This way, you're just paying the price of the device outright.
This is the better option for those that either already have a contract and want to switch to a different device or those that prefer to utilise pay-as-you-go instead of being bound to a contract.
If you use your phone a lot, a contract may be the cheaper option, but if not, a sim free deal and
pay-as-you-go
could be a great way to save a bit of money.
Doro 6520 FAQs

Does the Doro 6520 have internet access?

Despite not technically being a 'smartphone', the Doro 6520 does have internet access. It includes an email system and its own browser which is great for browsing the web and is compatible with running Facebook.

Can the Doro 6520 receive photos?
Yes, the Doro 6520 can receive photos via MMS, just like most other mobile phones. Simply inserting your sim card will enable this feature. Images can be downloaded to the gallery.

What is the button on the back of the Doro 6520?
This is a 'help' button, that will allow you to immediately contact your predefined emergency contacts when you are in need of assistance.

Doro 6520 Related News