Affordable Mobiles Mobile Phone Deals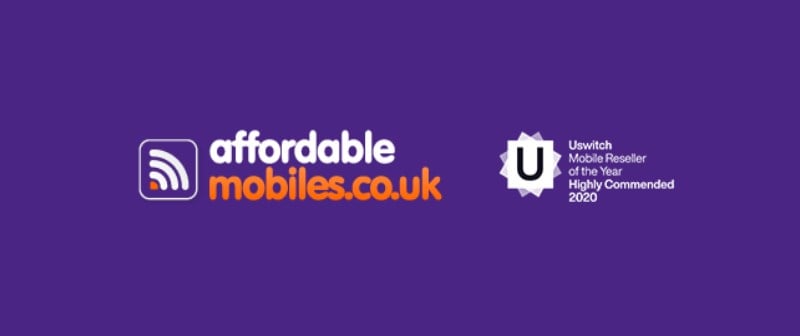 With an "excellent" rating on Trust Pilot, Affordable Mobiles offers exclusive deals on monthly mobile phone contracts connected to EE, Three, O2 and Vodafone. With the rise of 5G, they have also expanded their range of tariffs and contracts to include
5G devices
.
Affordable Mobiles have award-winning customer service and over 20 years experience in the mobile phone industry. They have built up relationships with the top UK networks and mobile device manufacturers to bring their customers the best handsets on the most cost-effective tariffs.
As well as contract deals they are also able to bring you SIM only deals, SIM free deals and refurbished phones.
Affordable Mobiles SIM Free offers
Why wait until you can upgrade to get yourself the latest smartphone? You can pick up the top devices from Affordable Mobiles. There are loads of benefits to buying a SIM free phone, you can get a new one whenever you want, you completely contract-free so you can use your current SIM card or pick up a SIM only deal.
Affordable Mobiles SIM Only Deals
SIM only deals are a great alternative to a contract. This is because
SIM only deals
from Affordable Mobiles bring you all the minutes, texts and data that you need, just without the hefty cost of a new handset. You can even choose from 30-day, 12-month, 18-month or 24-month contracts that are completely flexible.
When you buy a SIM only plan there is no handset cost to factor in. You are just paying for the tariff you choose. This means the monthly cost is a lot lower. Some plans start from as little as £10 per month.
Don't worry if you think you are going to miss out on network benefits because you're on a SIM only plan, you won't! There are tonnes of exclusive benefits available on this type of plan, depending on what network you choose.
Affordable Mobiles Upgrades
Why upgrade? Well, if you upgrade with Affordable Mobiles you can get a better deal because their prices usually
beat the networks
. They are open until 8pm so if you need help, there is an expert on hand to help you decide what deal is best for you. There is no credit check as you are upgrading and not taking out a brand new contract.
As well as being offered the best upgrade deals, you can also benefit from some added extras. Affordable Mobile has some exclusive offers from O2 and EE.
Affordable Mobiles Refurbished
Second-hand mobile phones are a great way to get hold of the best smartphones for a lower price. Affordable Mobiles class a refurbished mobile as one that has been bought and/or owned by someone and either returned within 14-days or sold/recycled after a longer period of use. All handsets are refurbished and tested to ensure they work the same as a new one.
All Affordable Mobiles refurbished phones come with a 12-month warranty, guaranteeing you quality and performance of each device. Each handset comes with a charging cable in the box, however, they do not come with the mains plug. The original headphones are also not included in the box for hygiene purposes.
Affordable Mobiles Black Friday Deals
There are always some surprises on Black Friday as all the networks and manufacturers try to undercut each other. However, Affordable Mobiles is usually the cheapest on a day-to-day basis so you can guarantee they won't be beaten on Black Friday deals.
The most popular deals are always the latest flagship handsets from iPhone and Samsung but there are also many available on more affordable devices like Oppo and Google Pixel.
Previous Affordable Mobiles Black Friday deals included the
Huawei P30
on O2 with 4GB data, unlimited texts and minutes for just £20pm after an initial £99 upfront fee.
Affordable Mobiles Mobile Phone Offers
With offers always available its no wonder Affordable Mobiles has such good reviews. As an online-only business, they can pass on amazing savings to their customers.
You can get the latest
iPhone
or Android on a contract deal that will be cheaper than anywhere else. They only deal directly with the four main UK networks which mean they get exclusive deals that they can then pass on to their customers.
Find offers from
EE
,
Three
,
O2
and
Vodafone
. They all offer the top brands of mobile phones as well.
Affordable Mobiles Brands
With the top four network providers offering exclusive deals to Affordable Mobiles, its not surprising to see that they are also working with the top brands in the mobile industry.
Affordable Mobiles Customer Service
With 5* "excellent" customer service, you know you are in the right hands if you shop with Affordable Mobiles. They are available to chat to until 8 pm most evenings but with their extensive Help guides, you should be able to find everything you need online.
Affordable Mobiles FAQs
Are Affordable Mobiles unlocked?
All handsets offered by Affordable Mobiles are network free so you can use any SIM card.
Do I need to claim cashback from Affordable Mobiles?
Nope, they automatically transfer your Guaranteed Cashback to your bank account. This is processed and paid 99 days from the day your order is shipped.
Are Affordable Mobiles refurbished handsets guaranteed?
with a selection of the UK's best smatphones available to buy secoondhand, you can rest assured that you are in safe hands with a 12 month warranty on all handsets.